I have always had a fondness for remote places — empty deserts, alpine lakes, uninhabited islands, underground caverns. Not only does solitude have a wonderful capacity to drain the hidden wells of stress, but there is the added attraction of experiencing places few others have seen.
This inborn passion for exploration has taken me from the Tibetan Plateau to the Vale of Kashmir; from the Western Sahara to the empty scrublands of the Kalahari; from the frozen bergs of Baffin Island to the sweltering interior of Oman.
Several years ago I landed in a sheep pasture on Papa Westray, a tiny map speck on the northern periphery of Scotland's Orkney Islands. In 1982, an old Russian-built Antonov dumped me off in the middle of the Gobi Desert — with nary a town or airport in sight. The more off the beaten path a place is, the more I like it.
Thus it was with particular delight that I recently came across a great little story put out by the BBC News Magazine — a story on the loneliest bus stops in the United Kingdom.
In addition to scouting out several locations on their own, the editors had solicited input from readers across the nation. One contributor wrote about a decaying brick shelter set "in splendid isolation" on the edge of North York Moors.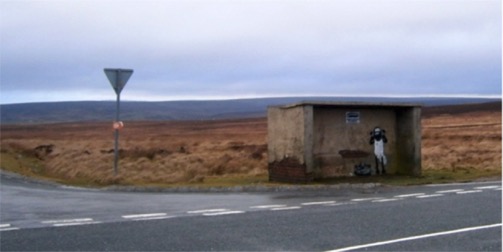 The stop is currently served by a single bus, the 26, that rumbles by every other Thursday
---
Another suggestion for loneliest stop was one on the Isle of Wight named Middle of Nowhere. "Funnily enough, it's in the middle of nowhere," says Ben Elias, from Hailsham.
Jack Craven of Guiseley nominated yet another service stop whose bus operates only "on Sunday mornings in the summer." While this can result in long and lonely waits, it is better than an old wooden bus shelter found deep in Clumber Park (a 3,800-acre National Trust property) that has not seen regular service for many years.
Still, the consensus winner for loneliest bus stop in the UK is a junction of tracks on a bleak moorland near Cape Wrath, the most north-westerly point of the British mainland. Two minibuses service this unpaved, 11-mile route between the small passenger ferry dock at the Kyle of Durness and the Cape Wrath light house. No other non-military vehicles ever travel on it.
"The stop is not marked by any sign," warns recent visitor Kevin Roy, "and there is no regular timetable. The bus drivers will drop you off or pick you up there by arrangement."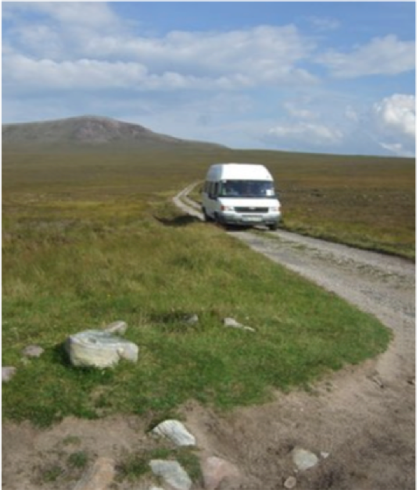 A minibus provides occasional service between the Cape Wrath lighthouse,
a public bothy at Kearvaig, and the Durness passenger ferry
---
Waiting for a Visitation
All of this got me to thinking about the many communities around the world that have not seen revival for years — if ever. Christians pray for God to come, but he never seems to turn up. Some are beginning to wonder if the route has been discontinued.
Could there be any truth to this? Are these revival petitioners praying in vain? Where has God gone? Our bus stop pews are starting to feel rather hard.
"When we are feeling lonely and neglected, it is tempting — but also foolish — to assume our condition has been authored by God. In point of fact, he has never lost interest in us, let alone our community."
There are three reasons why we might not see God's revival bus:
We don't really care if anyone comes by

In areas where nobody wants a bus, there is no sense in scheduling service. Spiritual sunbathers and prodigals would just as soon be left alone.

We don't really expect anyone to come by

Hoping, hoping, hoping. If no bus has come along for years, we can't just plop down on a bench and expect one to show up. As any pregnant woman will tell you, hoping and expecting are two very different things

We don't meet the conditions for service

Maybe we're waiting because we didn't check the schedule or call for a driver. When a service company has rules or procedures, non-compliance will have unfortunate consequences.

When we are feeling lonely and neglected, it is tempting — but also foolish — to assume our condition has been authored by God. In point of fact, he has never lost interest in us, let alone our community.

However, there are certain things that must be done if we are serious about summoning God's manifest presence.
______
First, we have to make a call.
"Seek the Lord while he may be found; call on him while he is near." – Isaiah 55:6
"You will…find me when you seek me with all your heart."
– Jeremiah 29:13
"…it is time to seek the Lord until he comes and showers righteousness on you." – Hosea 10:12b
"You who call on the Lord, give yourselves no rest, and give him no rest till he establishes Jerusalem [or your city] and makes her the praise of the earth." – Isaiah 62:6b-7
"Until now you have not asked for anything in my name. Ask and you will receive, and your joy will be complete." – John 16:24
---
Second, our calls must have a good connection.
"If I regard iniquity in my heart, the Lord will not hear."
– Psalm 66:18 NKJV
"Loose the chains of injustice… share your food with the hungry and…provide the poor wanderer with shelter…Then you will call, and the Lord will answer…" – Isaiah 58:6b,7a,9a
"Since they hated knowledge and did not choose to fear the Lord, since they would not accept my advice and spurned my rebuke… they will call to me but I will not answer; they will look for me but will not find me." – Proverbs 1:29,30, 28
"Who may ascend the hill of the Lord? Who may stand in his holy place? He who has clean hands and a pure heart." – Psalm 24:3-4a
"You do not have, because you do not ask God. When you ask, you do not receive, because you ask with wrong motives, that you may spend what you get on your pleasures." – James 4:2b-3
---
Third, when we do get God on the line, we must follow directions.
"Dear friends, if our hearts do not condemn us, we have confidence before God and receive from him anything we ask, because we obey his commands and do what pleases him." – 1 John 3:21-22
"And Moses said to Aaron, 'This is what the Lord spoke, saying: "By those who come near Me, I must be regarded as holy…"'"
– Leviticus 10:3a NKJV
"Jesus replied, 'If anyone loves me, he will obey my teaching. My Father will love him, and we will come to him and make our home with him.'" – John 14:23
In a world that has far too many forlorn spiritual bus stops, accusations of divine neglect will always make the rounds. The charges, however, ring hollow. For while communities bereft of divine presence do suffer from inattention, the neglect is ours, not God's.
To understand this, we have only to look at Ezekiel's poignant depiction of God's reluctant departure from Jerusalem (see Ezekiel 10 & 11), and Jesus' lament over that same city in Luke 13:34:
"O Jerusalem, Jerusalem, you who kill the prophets and stone those sent to you, how often I have longed to gather your children together, as a hen gathers her chicks under her wings, but you were not willing!"